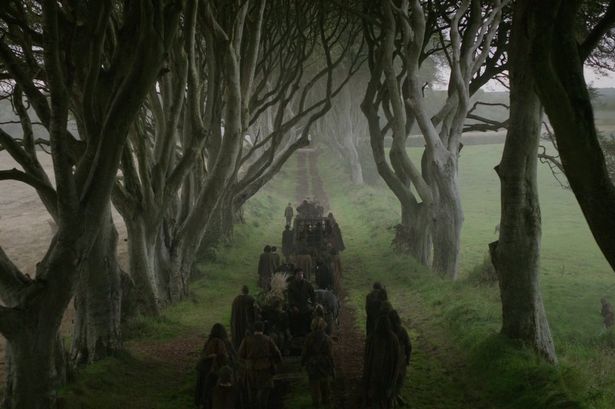 Date: 18 Feb 2020
Game of Thrones, Line of Duty, Derry Girls – while the UK's most talked about shows may not seem like they have a lot of similarities at first, each of these hits was filmed in Northern Ireland (NI) and eagle-eyed fans have been quick to spot familiar scenes.

As NI continues to establish itself as a world-class filming destination, we take a look at some of the top spots across the country that fans can visit when they fly into Belfast City Airport.

Home of the Throne
Titanic Studios
Located only five minutes from Belfast City Airport, Titanic Studios was home to the main studio and post-production facility for all eight seasons of Game of Thrones.
Dark Hedges, Ballymoney

The Dark Hedges was used as the King's Road which leads away from King's Landing, and ultimately takes Ned Stark to his death.

As one of NI's more famous locations, we would recommend you arrive early as it gets very busy as the day goes on!

Ballintoy Harbour

Ballintoy Harbour in Ballintoy, a small and cosy town off the North Coast, was the backdrop for the Free Cities where Varys was born, the exterior for the Pyke shots and featured as the Iron Islands.

If you've never seen it, this may help convey its beauty – it is recognised as an area of outstanding natural beauty.

Castle Ward

Not only can tourists visit the location for Winterfell, the Whispering Wood and Robb Stark's Camp, but Castle Ward has also introduced a special Game of Thrones Visitor Attraction where fans can try their hand at archery, meet Summer and Grey Wind and give Tyrion's Axe Throwing a go.

Tollymore Forest Park


Take a walk through the Tollymore Trek to see the Haunted Forest North of the Wall, the Woldswood near Winterfell and the Kingsroad near Castle Black.

If you're lucky, you may get to try on the Stark wool coat which some guides give out to keep you warm during the tour.

Derry Girls

Although most of Derry Girls was filmed in Derry/Londonderry, some scenes were shot in Belfast and even the Republic of Ireland.

Our Lady Immaculate College, where the girls attend school, is fictional but most scenes are filmed in Hunter House College, located just ten minutes outside of Belfast.

The iconic Fionnula's Fish and Chips in the show is based on the Falls Road in the West of the city, in a chip shop called John Longs, and the games pitch is in Orangefield Park, in the East of the city so there's something to see in every corner of Belfast..

An absolute must-see on your Derry Girls tour is the iconic mural dedicated to the hit show in Orchard Street, Derry/Londonderry.

The Fall

Most of the crime-thriller The Fall was not only filmed in Belfast but the storyline was set here too.

The Waterfront Hall was transformed into Policing Board HQ, while the Hilton Hotel beside it was used as Gibson's resting place before moving to the Merchant Hotel in Season 2.

Victoria Park, right next to Belfast City Airport, was used for a few scenes throughout the show and Spector even threw his decorating shears in the lake here after murdering Annie Brawley's brother.

Other key locations around Belfast include Victoria Square, w5 at The SSE Arena , Belfast Metropolitan College and McHugh's Bar.

Line of Duty

Each time a new series of Line of Duty, the BBCs hit police drama, is filmed, the cast and crew are based in Belfast for four months. Although the cast try to keep the city anonymous, fans have been quick to notice some familiar scenes…

Filming locations include Stix and Stones restaurant, where Ted and his wife go for dinner, the Invest NI building in the city centre, used for AC12 HQ, and the Central Library on Royal Avenue.

Some debate remains about where some of the shots were taken – while people claim the Industrial Estate hijack was filmed in Duncrue, others think it was taken at Belfast Harbour – both just a short drive from Belfast City Airport.

2020

2020 is set to be another action-packed year for filming in Belfast.

Local legend James Nesbitt's new thriller, Bloodlands, will be filmed around Belfast and Strangford Lough, while the BBC's latest comedy, My Left Nut, will feature scenes from the Ormeau Road, the City Centre, and the Strand Cinema.

Fly into Belfast and explore your favourite TV and film locations, all within an easy and convenient journey from Belfast City Airport. Why not hire a car and create your own tour? Click here for more information on car hire facilities from Belfast City Airport.