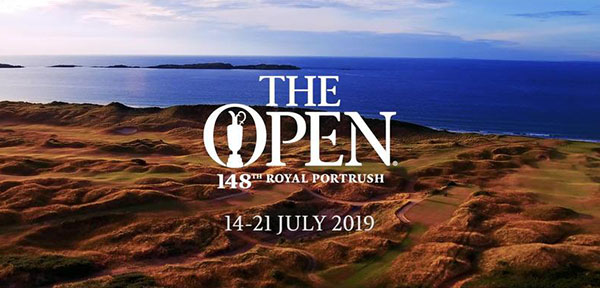 Date: 15 Jul 2019

This weekend, the Open makes an historic return to Portrush and we're ready to welcome some of the 140,000 visitors and spectators who will descend on Northern Ireland for the action.

Not only are we home to two of the world's top rated golf courses, but we're also home to legendary players including Rory McIlroy, Graeme McDowell and Darren Clarke, proving Northern Ireland really is made for golf.

If you're travelling through Belfast City Airport and onward to The Open, read our top tips to make sure you get the most out of your trip and ensure your journey is as easy and stress-free as possible.

1. Plan your airport transfer

While Belfast City Airport is just five minutes from Belfast City Centre, arranging your onward transportation from the Airport in advance is essential this week and can help you save both time and money!

Bear in mind that around 10,000 people are expected to fly through Belfast City Airport each day throughout the week so pre-booking will ensure that we have your transport ready for you when you need it.

We have options to suit everyone with a range of car hire providers on-site in our main concourse and a dedicated taxi service, operated by our trusted taxi partner, Value Cabs. Road restrictions will be in place by the PSNI to alleviate traffic congestion around Royal Portrush so please be aware that if hiring a car, parking your final destination will be at The Open Park and Ride or if you're travelling by taxi, your final destination will be Sandhill Drive.

If public transport is more your style, Translink operates bus and rail services* from the Airport, which will take you into the city centre where you can then connect to Portrush. Extra services will be operating during peak times to accommodate crowds travelling to The Open - timetables for the 148th Open are right here.

*Note that the train service is not suitable for those with limited mobility due to the rail halt being accessible by stairs only.




2. Bringing sports equipment? Speak to your airline in advance

If you want to enjoy a few rounds of golf whilst you're here (and who could blame you? Rory McIlroy's home club, Holywood Golf Club, is just five minutes up the road from Belfast City Airport…), then make sure you speak to your airline before travelling – some airlines require golf clubs and golf bags to be pre-registered ahead of time and an extra handling fee may apply.

If you're travelling back through Belfast City Airport with sporting equipment, you can find our 'oversized baggage area' located to the right hand side of the airline check-in desks.

3. Pack for all weather possibilities

Northern Ireland's weather is as unpredictable as who will lift the Claret Jug on the 21st July. The forecast for the week is 'sunny spells with scattered showers' so bring sun cream and a raincoat.

Regardless of the weather, the scenery across the country, from Belfast City Airport to Royal Portrush, is breath-taking and you won't be disappointed.

4. Check the prohibited items list

Before you start your journey, familiarise yourself with items that can and cannot be taken through Airport security or on board an aircraft.

There are also a number of prohibited items at The Open as well so be sure to check those out too before you make your way to Royal Protrush. If you do have a prohibited item on arrival at Royal Portrush, don't worry - there are free luggage storage facilities at the course entrance.

5. Don't forget your chargers!

Cameras and mobile devices are permitted at Royal Portrush (provided they are on silent mode and are not used for filming or streaming live action) so make sure you pack your chargers.

We wouldn't want you to miss out on a selfie with the Pros or all the exclusive action on The Open app so if you do land in Belfast without a charging device, visit the WH Smith store located in our main concourse where you'll find chargers, portable power docks and outlet convertors.

6. Bring the necessary documentation

Passport? Check. Tickets? Check. Important documents for travelling...?

Your official tickets to the 148th Open will of course be high on the 'packing' checklist but it's easy to forget other important paperwork when you're getting ready to travel. Consider any required visas, confirmation emails or booking references you might need, as well as any letters of consent in the case of travelling with medication/medical equipment or with children possessing a different surname than the parent or guardian.

While most documents can be downloaded onto your phone, it's best to have a physical copy in the case of an emergency (or dead battery - see tip #5).

7. Ask for help if you need it

Our staff are specially trained to ensure passengers have the most comfortable journey possible and this doesn't stop once you land.

Special Assistance
Passenger Assistance is available for people with reduced mobility and we can help you through arrivals with your bags. This needs to be pre-booked in advance so contact your airline before travelling to arrange it with our PRM team.

Visitor Information
Visit Belfast has a visitor stand in the main concourse of the Airport terminal. If you need directional information or advice on attractions or hospitality to experience during your stay, head straight there on your arrival.

Airport Information
We have an Airport Parking desk, located to the left on exiting the arrivals doors. Should you have any Airport related queries or should you require the complimentary shuttle bus service to the rail halt, visit our Airport Parking desk where staff will be happy to assist you.

8. Stay connected

During your stay, be sure to engage with the official event hashtag #TheOpen. Just like Belfast City Airport, Royal Portush will be providing free and unlimited WiFi to all visitors meaning you can stay connected at all times and share your experience with your online audience.

You can also stay connected with Belfast City Airport via Facebook and Twitter incase you have any travel related queries at any stage of your journey.

Key numbers that you may need along your journey:

Fire, Police and Ambulance (emergency) - 999
Police (non-emergency) - 101
Tourism NI (visitor information) - 02890 231221
Belfast City Airport (travel queries only) - 02890 939093

9. Play a round at Royal Portrush before the Pros do

You can have a taste of the The Open before you even leave the Airport!

At the front of our terminal, you will find the Tourism NI golf simulator where you can practice your swing, perfect your putt and pitch yourself against golfing legends before travelling to Portrush to witness the real thing.

10. Make time to explore

Belfast City Airport is just #5MinutesFrom all of Belfast's best bits so we're perfectly located to allow you to make the most of your trip to our city. If you have some time to explore before or after The Open, you can find some inspiration right here.

For more information on The Open, Northern Ireland's biggest sporting event, visit the official Spectator Guide.