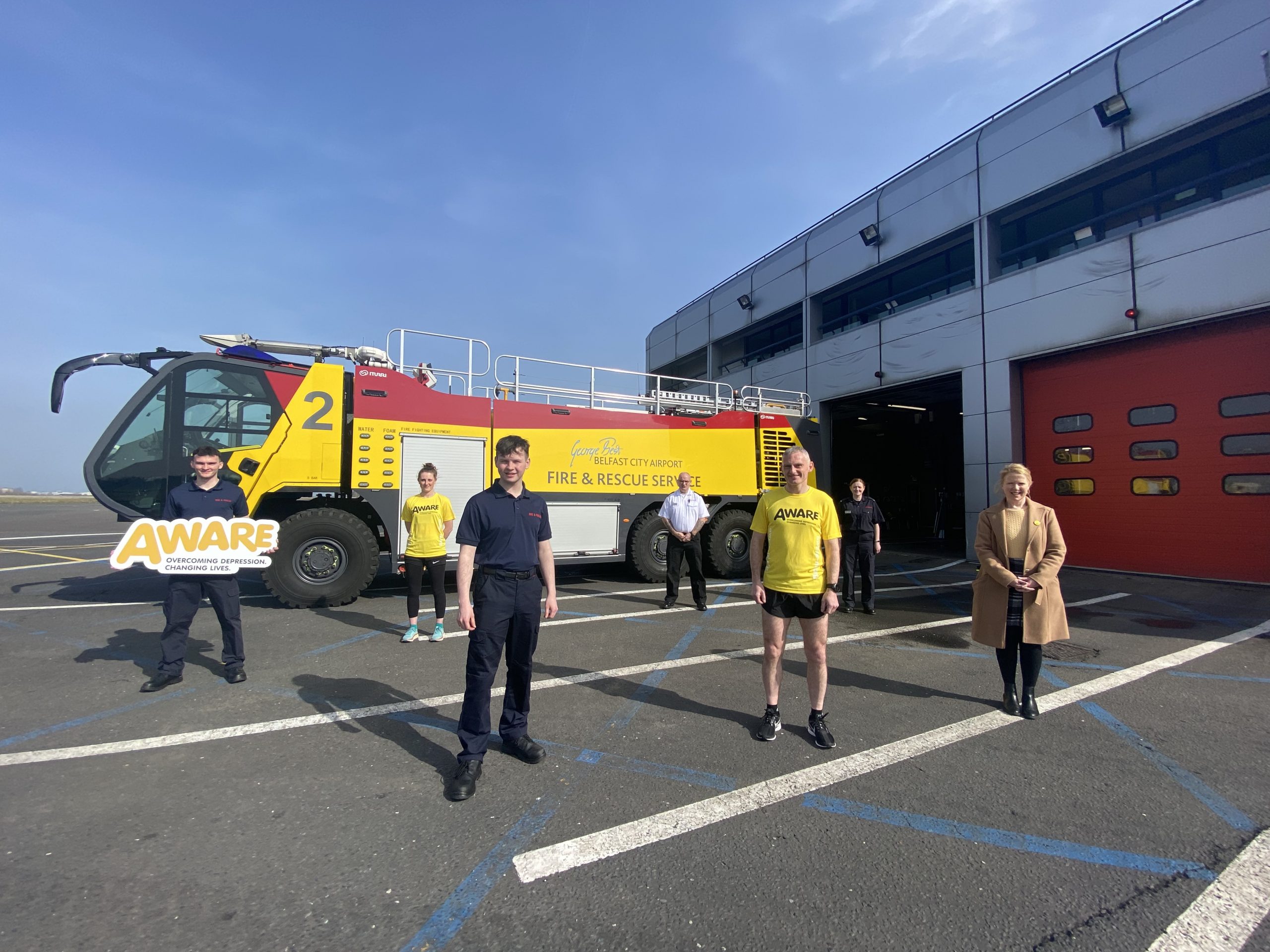 Date: 07 Apr 2022

Belfast City Airport's new charity partnership with AWARE is off to a flying start, with staff members from the airport lacing up their running shoes to participate in the upcoming Belfast City Marathon.

Aiming to raise vital funds for the charity, a group of 17 staff from Belfast City Airport, including Airport Fire Service and Senior Management, will walk, jog, or run a leg of the relay event, with several staff members running the full 26.2 miles.

Paula Bittles, from Belfast City Airport, said:

"We launched our charity partnership with AWARE in February, with the aim of generating awareness of the often lifesaving work it does for people struggling with mental health issues, as well as raising money to help implement the charity's programmes across Belfast and beyond.

"The team here at Belfast City Airport is always keen to get involved in community projects and regularly supports our charity initiatives, so it's brilliant to see so many signed up for the marathon and really championing our first fundraiser for AWARE.

"Taking part in the Belfast City Marathon is just one way in which we are helping to support the crucial services provided by AWARE, and I would encourage all businesses across Belfast to get involved in any way they can, whether that be taking part on the day, or by making an online donation."

Lisa Abell-Farrelly at AWARE NI, which hosts support groups for people affected by depression, anxiety and bi-polar disorder, as well as delivering education programmes in schools and businesses, said:

"We are thrilled to have Belfast City Airport on board as a partner, with the Belfast City Marathon being just the first of a long series of planned events and fundraisers that we will be working together on.

"Poor mental health can affect anyone, and at AWARE, our vision is to build a future where people can talk openly about their mental health, access the services they need, and have the skills and knowledge to maintain positive mental health.

"With the help of organisations like Belfast City Airport, we can realise this vision, and continue to deliver our training programmes, support groups and mental health services across Northern Ireland".

The marathon, which kicks off on Sunday 1st May 2022 at 9am from Stormont Estate, is open to teams of two to five people, and will follow a route across North, South, East and West Belfast, before finishing at Ormeau Park.

AWARE is the only charity working exclusively for people with depression and bi-polar disorder. If you would like to support it in continuing to deliver important services to people across Northern Ireland, you can make a donation today.