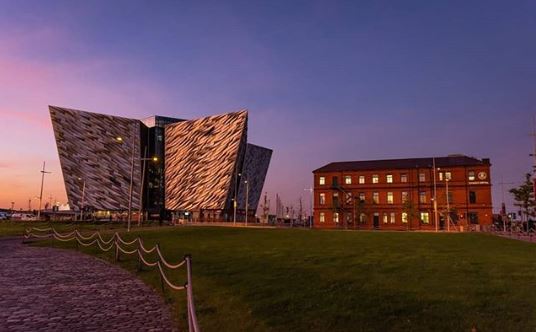 Date: 27 Sep 2019
Whether your Instagram is filled with snaps of your holidays, pictures of your favourite meals or selfies of your #OOTD, there is no doubt that Northern Ireland has some seriously Insta-worthy locations, all within a quick drive of Belfast City Airport.

From breath-taking backdrops to pieces of history and iconic landmarks, grab your camera and get inspired with our list of Belfast's most Instagrammable places.
Game of Thrones Glass Window Trail

The Game of Thrones glass window trail guides visitors from City Hall round to the Titanic Quarter, taking in lots of our other top spots on the way and celebrating Northern Ireland's large part in making the HBO hit. The windows even have a built in selfie chair – perfect for striking your signature pose.

The Crown Bar
Established in 1826, the Crown Bar, or Crown Liquor Saloon as it's formally known, is Belfast's oldest and most famous bar.

Think warm, atmospheric lighting, cosy blankets and Victorian style tiles, where even the windows have a story to tell…

Cathedral Quarter
Home to the famous umbrella walkway, courtyards covered in murals and dainty cobblestoned streets, the Cathedral Quarter mixes culture, art and history to create one of Belfast's most snapped areas.

Titanic Quarter

From the cleverly designed Titanic Belfast to the stunning views from the old docks, stand where the Titanic once stood and explore Belfast's ship making history – complete with iconic yellow Harland & Wolff cranes in the background.
St. George's Market
Perfect for arts and crafts, shopping and foodies alike, St. George's is bursting with Northern Irish produce, artists and makers. It's no surprise it was named UK's Best Large Indoor Market in 2019
Enjoy the Variety Market on Friday, the City Food and Craft Market on Saturdays and the special Sunday Market on Sunday.

CS Lewis Square

Located at the home of CS Lewis himself, CS Lewis Square lets visitors reimagine the Chronicles of Narnia with sculptures of favourite characters, Aslan, The White Witch, Mr Tumnus, The Beavers, and more. Book lovers – grab your cameras and tell your own story…

Victoria Square
Take in breath taking 360-degree views of Belfast from the Victoria Square Dome, with special events scheduled throughout the remainder of 2019. Yoga in the Dome anyone? Dinner for two?
Once that's done, take your camera and your best angles to the iconic Victoria Square flower wall and floor of art installations – very Vogue!

The Big Fish
Did you know that each tile on the Big Fish tells a story about Belfast? Created by John Kindness in 1999, the Salmon of Knowledge was designed to celebrate the regeneration of the River Lagan.

Queen's Belfast

With a total of 98 listed buildings on campus, Queen's University is the perfect backdrop for stunning photography – especially the world-famous Lanyon Building, dubbed the Hogwarts of Northern Ireland by visitors. Harry Potter fans will be queuing up for this one…